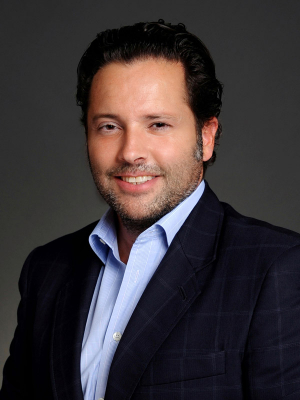 Carlos de Aldecoa Bueno is President and CEO of Cadeco Industries, Eximius Coffee, and Gulf Coast Distillers. Located near downtown in Houston's trending East End, the enterprises are the modern incarnation of a 3rd generation, family-owned group of companies focused exclusively on the food and beverage industry. 
In 1995, Cadeco Industries retrofitted and modernized the iconic Uncle Ben's processing facility on Clinton Drive, converting it into the largest and most diversified independent bulk coffee processing facility in North America. Each day, Cadeco receives and processes more than one million pounds of coffee from all over the world. Eximius Coffee roasts over 30 million pounds of coffee per year and produces nationally for private label brands as well as its own brands: Aldecoa Coffee, Cappio Cold Brew Coffee and Café Diario. 
At the end of 2006, de Aldecoa formed Maximus Coffee Group LP, which went on to become North America's largest integrated roasting, decaffeination, soluble and packaging coffee facility. In 2014, de Aldecoa sold Maximus Coffee Group to a global commodity trader based in Switzerland and started a new venture within the spirits industry with Gulf Coast Distillers. 
De Aldecoa transformed a portion of the Cadeco Industries facility into a distillery, and later expanded it with a brewery and a tasting room, now offering cocktails, beer, food, a private event space and tours within the historical 1940s building. Gulf Coast Distillers now owns more than 12 alcoholic beverage brands like Giant Texas Whiskey, Round Rock Vodka and Tejas Beer, and has become the largest distillery west of the Mississippi River. Also in 2014, de Aldecoa started a joint operation with Wholesome Sweeteners in La Porte, Texas to store and package organic specialty sugars and liquid sweeteners. The company packages for the Wholesome brand as well as most of the national retail chains. 
Most recently, de Aldecoa met the COVID-19 pandemic head-on by adding to the distillery, a massive hand sanitizer production and bottling facility to meet our community's need for health and safety with C4U hand sanitizer. In addition to producing C4U for consumer and commercial sale, de Aldecoa has donated millions of gallons of C4U hand sanitizer to our local health care community and first responders. 
A proud UH alumnus, de Aldecoa earned his bachelor's of science in industrial engineering from the Cullen College in 1997. He has served as a Board Member of the Greater Houston Partnership, the Houston Hispanic Chamber of Commerce and the East End Development District. De Aldecoa is a member of the Houston chapter of YPO and serves on the Board of Boys and Girls Country, the Houston Zoo, and the Advisory Board of Amegy Bank. He plans to continue serving coffee, sweeteners and spirits to consumers for many generations to come.