The Department of Industrial Engineering at the Cullen College of Engineering offers a professional degree graduate program in Engineering Management (MEMGMT). The goal of the degree program is to:
To meet the immediate need of local industries in trained engineering managers
To address the need of integrating the engineering and management functions for high technology organizations.
To provide skills and the necessary knowledge to manage functions within manufacturing and service organizations.
About the Master's in Engineering Management
Engineering Management (EM) bridges the gap between engineering and technological problem-solving abilities of engineers with administrative skills for leading the day to day operations of today's complex organizations within the current global economy. The scope of EM includes: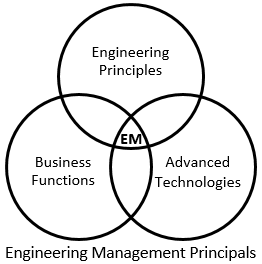 The Industrial Engineering Department at the Cullen College of Engineering is offering online 30-credit hours Masters of Engineering in Engineering Management starting Spring 2019. At the time of graduation, graduates will be familiar with a variety of the engineering and management theories, concepts, tools, practices and procedures for leading and managing within their organization.
Degree Description
Masters of Engineering Management is a 30-credit hour graduate program offered fully online. The Master of Engineering Management degree requires a minimum of 30 graduate credit hours. A cumulative grade point average of "B" or better is required to graduate. Each student is responsible for being familiar with the degree requirements as stated in the current UH graduate catalog.
Core Courses
As part of the interdisciplinary nature of MEMGMT degree, courses within Cullen College of Engineering and Bauer College of Business are carefully selected to offer the best learning experience in the EM discipline. Students are required to enroll in six required core courses in IE Department in Cullen College of Engineering:
IEEM 6330: Managing Engineering Functions
IEEM 6331: Quantitative Methods for Engineering Management
INDE 6332: Engineering Project Management
IEEM 6335: Engineering Management of Organizations
IEEM 6360: Data Analytics for Engineering Management 
INDE 6380: Accounting for Engineering Managers
Two management selected courses from Bauer College of Business and two technical courses offered by Cullen College of Engineering in any engineering discipline selected by the student. All selected courses must be approved by the program director.
Additional Information
Click here to download more information on the MEMGMT program.
Advising Form
Click here to download the MEMGMT advising form.
Click here to download the coursework self-assessment form to help plan to complete the degree.
Application Deadlines
Spring application submission deadline: December 1
Fall application submission deadline: June 1
Application Link: https://www.uh.edu/graduate-school/admissions/how-to-apply/
This program is only for Domestic applicants.
Contact Information
For more information, please contact:
Mathew Hu, Ph.D.
Industrial Engineering
Engineering Management Program Director
Phone: 713-743-4180
Email: mhu9 [at] central.uh.edu
Department Email: iegrad [at] central.uh.edu
Online MS in Engineering Management
UH IE now offers the Process Safety Engineering Certificate completely online through UH-Extend. Click here to learn more.